IMC 523 ( no longer available )
The perfect replacement food waste disposer for the IMC FWD 523 is our TGMi SM75.
Ideal Under Sink Solution For ship's galley or small restaurant kitchens.
The SM75 food waste disposer offer excellent throughput and performance at low operating cost.
This disposer can handle up to 200kg per hour of food waste making them ideal for kitchens in medium sized hotels, restaurants, schools and hospitals.
Each unit is fitted with a reliable, energy efficient o.75kW, (3/4 HP) motor, capable of grinding small chicken and pork bones, plate waste, vegetables, fruit and peelings..
Each unit features tough, hardened steel alloy cutting elements, and offers a high degree of operator safety, with standard baffle and interlock systems preventing access to the grinding unit while motors are running.
Available in 1 phase 220 and 3 phase 415/440/460 50 and 60 Hertz including wall mounted controle box.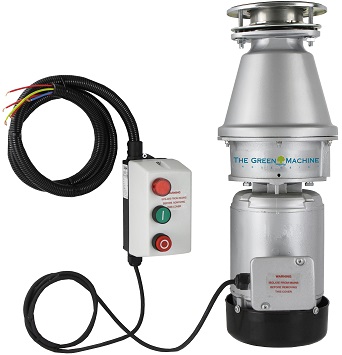 Specificaties & downloads
IMC 523 Disposer voor montage direct onder de spoelbak.
Verwerkt tot maximaal 100 kg organisch-afval per uur.
230 volt 1 fase of 400/440 volt 3 fase.
50hZ & 60hZ.
3/4 pk 0.75 kW.
Compleet met wandschakelaar.