IMC FWD 825DS Series 800 High Volume Performance this unit is build for large amount bulky waste.
The IMC FWD 825DS food waste disposer is a free standing unit the special 825DS unit incorporating a large self-contained feed table and a retractable pre-rinse spray, to help rinse pots and clean the waste disposer, is also available.
The unit is powered by a high performance 2.2kW (3.0HP) motor, enabling you to dispose safely of tough waste materials such as large red meat bones, cauliflower stalks and fish skins.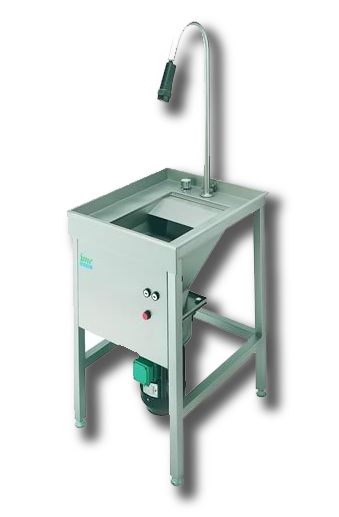 Specificaties & downloads
IMC 825DS Dumpstation 3 pk.
Zware disposer voor supermarkt, groentezaak, slagerij en viswinkel.
Grotere trechter voor zwaar gebruik verwerkt met gemak 600 kg organisch-afval per uur.
Uitsluitend leverbaar in 400/440 volt 3 fase.
50hZ & 60hZ.
3 pk 2.2kW.
Schakelaar in de front van het meubel.
Automatische waterklep.